Dr. Marta Sanchez-Emden DVM CVA CCRP
Social media: @DrMartavet
Dr. Sanchez-Emden graduated magna cum laude with a Bachelors Degree in Biology from the University of Puerto Rico. In 1994. She earned her Doctorate in Veterinary Medicine from Tuskegee University in Alabama where she graduated cum laude. She received numerous student awards during her veterinary school years, including the American Association of Feline Practitioners Award for Outstanding Ability in Feline Medicine and Surgery, and the Hills Science Diet Award for Outstanding Proficiency in the Dietary Management of Diseases. She has worked in Miami since her graduation from veterinary school twenty six years ago. Her interest for Integrative Medicine grew when, after ten years of practicing conventional medicine, she became frustrated with what seemed to be premature euthanasia of older patients and patients with chronic diseases. She founded Animal Health and Rehabilitation Center in 2003 and Galloway Animal Hospital in 2005. Dr. Sanchez-Emden is one of the few veterinarians with certifications in both Veterinary Acupuncture and in Canine Rehabilitation. She was one of the first veterinarians in South Florida to obtain the International Veterinary Acupuncture Society Certification (2002), and one of the first in the nation to obtain the Canine Rehabilitation Certification by the University of Tennessee (2003). She served as a consultant for the Hills Science Diet International Advisory Board for three years, and collaborated with the Miami Zoo providing acupuncture and rehabilitation therapy to the Zoo animals for several years.
She is a certified Veterinary Journalist. She was resident veterinarian for Univision's "Despierta America" show for seven years, and in addition contributed on a biweekly pet segment on Univision's "Tu Desayuno Alegre" show from 2012 to 2015. She was also the veterinarian for Univision's "La Revista de Zuleyka" morning show. She has recorded educational videos in Spanish for Elanco and Merial Pharmaceuticals. Dr. Sanchez-Emden has participated as a frequent guest on PBS-Spanish "Mi Mascota TV", Sirius XM Radio: Cristina Radio "Animania" show, and Animales 360 radio show. Her book "Chihuahuas: How To Be Your Dog's Best Friend" was published in 2013 in both English and Spanish. She hosted her own "Hablando de Perros y Gatos con Dr Marta" podcast show in Petlife Radio, sponsored by Merck Pharmaceuticals. She is featured on CBS4 News and other local news frequently. Since 2017 Dr Sanchez-Emden is seen frequently in Telemundo's morning show "Un Nuevo Dia " and CNN Espanol, which is broadcasted to a national and internationally audience. She is a collaborator for Vet Candy, a digital magazine for veterinarians. She writes a monthly pet health column for the Miami magazine "The Florida Villager", and has been voted "Best Veterinarian in Miami" by the magazine's readers for five years in a row. Dr Sanchez-Emden was featured as cover story for PetVet magazine, Dec 2018 edition. She hosts the Spanish language veterinary blog "Dr Marta Vet". When not working in her field, Dr Sanchez-Emden practices the sport of fencing. Being an international competitor prior to entering veterinary school, she resumed the sport after having established two veterinary hospitals in Miami and becoming a mother of two. At present she competes at national and international levels. She has competed in the World Fencing Championships in Slovenia, Italy and Cairo, Egypt.
---
Junior Garzon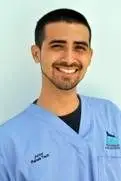 Mr. Garzon is the youngest member of the Animal Health & Rehab family. With three years of experience in the field, his skills go far beyond that. He is a Veterinary Technical Nutritional Counselor. He has dual duty as veterinary technician and rehabilitation trainer. Junior has at home a menagerie of pets including Conures, Sugar Gliders, Tortoises and a Chihuahua.
---
Susie Martino
Our office manager, during her ten years of experience she has trained and worked in every area of the small animal clinic: kennels, technician assistant, technician and receptionist. She is a Veterinary Technical Nutritional Counselor. The efficiency and promptness of her work is a key factor for the excellent client service at Animal Health & Rehab Center.
---
Ingrid Mestayer
A second generation dental professional Ms. Mestayer is our dental hygienist. She keeps current with the continuing education in her field, and enjoys bringing new effective techniques and products to our patients. Ingrid is also our head technician with ten years of experience in the medical and surgical veterinary field. She is an asset to Animal Health & Rehab Center.