"Boy, are we grateful to have found you! Our 6 year old mischievous basset hound, Toston, suffered 2 compressed vertebrae in May of this year. After undergoing spinal surgery and being treated by the phenomenal doctors and staff at Southeast Veterinary Neurology he still had not regained the motor function he had lost (both hind legs). Dr. Kornberg, however, was determined and steadfast that with rehab Toston will walk again. This is when we were recommended to Dr. Sanchez for rehab. During her initial consult, she established a baseline to gauge progress and laid out the treatment plan. It encompassed underwater treadmill therapy, at home exercises, and follow up visits to chart progress. Every step of the way was incredible. The office staff, was super accommodating, the rehab trainers were amazing, and Dr. Sanchez was top notch. After every rehab session we noticed progress. After 8 sessions (one month) of the underwater treadmill, Toston graduated to the inclined treadmill. He then completed 8 sessions on the inclined treadmill and was discharged from inpatient therapy earlier today. After 2 months of rehab Toston has full motor function and is able to walk again. This was no easy task. The injury sustained to the spin was pretty severe and the basset hound body type makes full recovery that much more difficult. However, the dedication and determination to Toston's cause from all of the doctors, techs, trainers and staff was more intense then the cards stacked against him. During this journey, the staff (doctors, techs, trainers and staff included) grew to be more for Toston than people he came across. They grew to be his cheerleaders, his friends, and ultimately his healers. From the bottom of our heart, we are eternally thankful for your skills, your dedication and your desire to help the helpless. My 3 boys may be too young to remember their dog's journey to recovery but they are sure to remember the wonderful memories yet to be shared with their fury brother. Thank you for providing my family with a few more years of memories!"
Edgar de la Calle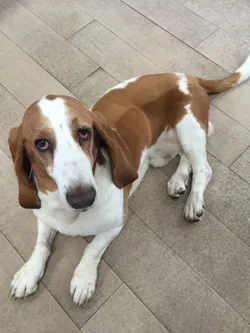 ---
Dr. Sanchez,
I wanted you to know how well Ralph is doing. My 10 year old Clumber Spaniel had a sudden paralysis of his back legs after a herniated disc in his spine at L1. He was operated by the neurosurgeon Dr. Michael Wong After successful surgery he remained weak in his back legs and was transferred for rehabilitation at the Animal Health and Rehab center for continued care. Within a week of therapy he began to move his legs. You and the rehab staff worked him hard and he improved to the point of standing and then walking with some assistance. After about 3 weeks at rehab, he was able to walk somewhat independently and was discharged home with a wheel support device for his back legs. Well that didn't last long. He quickly started walking on his own. His balance got good enough so that he now runs around the yard unassisted. He's a little clumsy but that too is getting better. All this in about 6 weeks.
Your staff and you have been terrific. I thank you all for his wonderful care and congratulate the great success you achieved in his rehabilitation.
Best regards,
Dr. Barry Baumel
---
On July 16 my beautiful dog was run down in the street by a reckless driver. The car didn't even stop. She spent the next three weeks in two hospitals in the ICU. Both hospitals advised "put her down". I refused. She was then operated on and the doctors said she would probably never walk again and for sure never urinate or use her bowels on her own free will again.
Thanks to God I found the amazingly talented and loving team at Animal Health and Rehab Center. Katie arrived there on July 28 and they immediately put their heads together for a plan of rehab and loving care all headed by the the amazing Dr. Sanchez. They executed the plan with perfection and never gave up on her.
I am happy to report that as of yesterday August 28, Katie, the love of my life, graduated from The Center walking on her own, urinating on her own, her bowels working on their own. My dog is back and doing great. I praise and thank from the bottom of my heart the amazing doctors and healing staff at Animal Health and Rehab Center. Without you Katie would not be here with me today. Thank you so much, you're the best.
J Rod M, Miami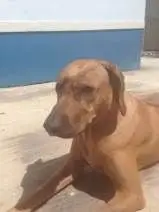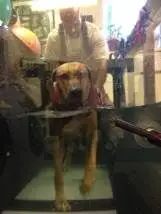 ---
Dear Dr. Sanchez and your great staff,
I really want to take the time to thank Dr. Sanchez for helping my dog Fifi recover. Fifi came to Dr. Sanchez after an IVVD surgery on her spine and didn't have the ability to use her left back leg or walk. In addition, Fifi came to Dr. Sanchez with a lot of anxiety, very overweight, and unable to pee without help. I can honestly and happily say that after a month of meeting with Dr. Sanchez and her great staff Fifi has recovered greatly and is the happy walking dog she used to be! Fifi did water therapy and therapy in the treadmill at the center and it helped her immensely. Fifi is now walking, peeing on her own, without anxiety, and at the right weight. Dr. Sanchez took great care of Fifi and I really appreciate that she took the time and interest to help Fifi in all areas of her health not just in her walking. I am really appreciative of the care and the professionalism of her staff and I am forever grateful for their huge work in helping Fifi recover. Fifi's surgeon referred me Dr. Sanchez and told me that with the therapy and care she would receive at the center she will be able to walk again. Thankfully he was 100% right.
Sincerely,
Erica Rivera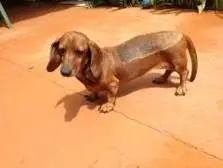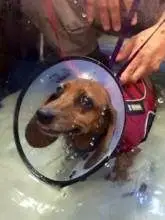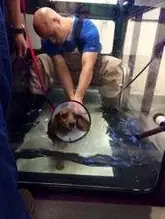 ---
Wasko is a very active almost 10-year old German Shepherd whose favorite thing in the world is chasing boats in our backyard. One weekend in mid-March on a beautiful Saturday he was doing his favorite thing, back and forth for most of the day. Sunday he could barely move, and his rear legs were like rubber. We took him to our vet and they did x-rays and an evaluation, determining that there was nothing wrong orthopedically. They referred us to Southeast Veterinary Neurology, Dr. Freeman, who after an MRI and additional evaluation, found he had spinal compression of three discs, one of which was almost 90%. The prognosis was not very positive, but he was strong and in otherwise good health, and we did the surgery. After the surgery, they recommended us to Animal Health and Rehab Center and Dr Sanchez. In his current condition, there was no way he could come home and we could get him functioning by ourselves.
We brought him to Dr. Sanchez where he was in-patient for the first two weeks. Although he was not very mobile, the first weekend we were able to bring Wasko home for a mental health break... to see his house again and his younger German Shepherd sister, Raina, who was missing him terribly. He was having physical therapy on a daily basis. The staff communicated with us twice a day as to how he was doing. After the first two weeks, Wasko was doing well enough to become an out-patient with physical therapy 2x a week. We were told how to do home exercises with him 2-3x a day, reinforcing the rehabilitation he was having with Dr. Sanchez.
Wasko is a very motivated dog, and he was a very good patient. After 10 weeks at Animal Health, Wasko has been discharged. He is strong, happy and healthy,and smiling again. He will never have the same gait, or run the same way, but he has his life back again. Everyone who worked with Wasko put all their energies into getting him back as much as he could to his former self. And for that, we can never thank Dr. Sanchez and her staff enough.
Anita & Joe Hoffman
---
Edward's success
For both humans and animals, rehabilitation is complicated. As with many things in life, a positive rehab outcome requires skillful integration of several components. An owner's love for their pet is instrumental but insufficient. On the professional's side, caring and good intentions are not enough either. Successful rehab takes a facility with proper resources, a well trained, experienced, and competent team, and a high level leader of that rehab team.
Dr. Sanchez and her team at the Animal Health and Rehab Clinic exemplify all of these characteristics. Dr. Sanchez has advanced and specialized training in animal rehab medicine, and offers a straightforward, practical, step-by-step, assessment-based approach to animal rehabilitation.
Our family's Corgi, dogs with short legs, long backs, and a tendency to have spinal problems, developed a severely compressed disc in his back. At 9 years of age, Edward stopped walking one day, probably after a running injury. He loved playing ball and running fast, making quick cuts to retrieve the ball that we'd throw. On that fateful day when he could no longer walk, we rushed Edward to emergency surgery to relieve the pressure in the lower back. The surgeon was realistic with us about Edward's prognosis. It was possible that he might not survive the surgery, and as for walking again, the surgeon could not even speculate. Perhaps Edward would have to use one of the K-9 wheelchairs. Nobody knew what might happen.
Animal Health and Rehab was not our first stop in the months after Edward's surgery. By going to this other facility, I came to understand and appreciate the work of Dr. Sanchez and her team. There were no positive results with Edward after a few months at the first rehab center. I was discouraged. From the first meeting at Animal Health and Rehab, however, Edward's assessment and treatment was upbeat and systematic. Using physical examination methods, her direct observation over time, and video taping of such things as (in this case), Edward's sitting posture, standing attempts, walking progress (virtually nothing at first), a specific baseline of different kinds of functioning is established. Dr. Sanchez creates the treatment plan and interventions according to these specifics. So there is no one size fits all work happening here, it's all individualized to the patient/the animal, and then, the assessments continue, and the treatment plan and interventions are re-calibrated and modified according to the nature and rate of progress that' s made. So, knowing something about therapy and rehabilitation (drug abuse treatment is my field), it seemed clear that Dr. Sanchez and her staff were offering state of the art services. The team at Animal Health and Rehab are not only consistently pleasant and lovely people; they are also very well trained and closely supervised. The entire operation is professional, efficient and the service fees are fair and fully explained.
Edward could not walk when we brought him to the Animal Health and Rehab Center. The physical therapy that he received over the months has built Edward's strength, coordination, confidence and motivation. At the beginning, I carried Edward every step of the way from my car to inside the clinic. Now, after the car door swings, a walker appears! Edward gets out and walks straight into the clinic on his own. Taking him for a walk in our neighborhood now puts us in close touch with our neighbors, even former strangers. Everyone is surprised to see Edward walking. As an eight year old down the block says ever time he sees Edward on his walk, "I'm glad Edward does not have to use his wheelchair any more". Edward is comfortable at Animal Health and Rehab, you may have seen him sitting behind the front counter next to Julie or Suzy. The compassionate and competent care provided over these months has not only reinvigorated our Corgi with the surgically repaired back, but it's also lifted our family's spirit again as well.
Dr. Howard Liddle
University of Miami
Miller School of Medicine
---
Randy's success story
On or about October 2008 I went outside to my yard since Randy was barking furiously for a prolonged period of time. I found him barking at a cat that was hidden behind a bush. I encouraged him to stay away but as soon as the cat left running from the bush he chased after him. He went through a very small opening between fairly large branches and he was trapped and screamed in pain. I picked him up and he could not move his rear legs. As a physician I came to the conclusion that most likely he had developed spinal cord injury. The cut off leafless branch must have punctured the spine. Nevertheless I rushed him to the ER not really sure of what happened.
He was kept overnight and the next day had a CT myelogram. The surgeon was still not sure of what occurred as there is apparently an embolic cause of sudden paralysis that had not been ruled out. He offered surgery although he admitted he wasn't sure this would help Randy. I agreed to it hoping that the laminectomy would relieve the compression although it didn't appear to be even moderate in severity and definitely not discrete (unlikely a herniated disc). Three months later Randy was no better. The surgeon told me that after 3 months I should expect no further improvement. When I asked about physical therapy he told me that I could try it but was never optimistic in spinal cord injury cases.
Two days later I made an appointment with Dr Sanchez. She evaluated Randy and also said the prognosis was guarded but she was willing to try rehab if I was. So we did. After 6 months of intensive rehab including special boots, customized cart, water treadmill 3 times per week, etc. Randy is now 95% functional. He can now run, go up and down stairs, etc. His disability is only noticeable when he walks slowly as you can tell his left rear leg is weaker and in the fact he can not jump up to a
chair or sofa like he used to. He does stand in his rear legs for prolonged periods if he wants to or jump 4-6 inches from the ground repeatedly when he's happy.
My wife and I (and of course Randy)are forever grateful we met Dr Sanchez and her team of therapists as well as the rest of her staff who have always been very professional and helpful. From now on, whomever tells me they don't believe in physical rehab (human or animal) will have to listen to Randy's success story.
From: Fernando Villacian MD
---
Ace, a 2 year old Cane Corso, came for rehabilitation services as a quadriplegic patient. He had been suddenly paralyzed in all four limbs three months prior. He had been living in a cage at an animal hospital since then. He was unable to drink water orally, or to eat on his own. He had been receiving daily fluids under the skin to prevent dehydration. He also needed to be hand fed several times a day. Ace was also extremely aggressive. When we met him he was remarkably underweight, with back bones protruding. He could not move at all. He had severe atrophy of all the muscles. His body had developed a hunched posture due to lying down for so many months. Ace was admitted as an in-patient for intensive therapy. He would go home to his family on weekends. After three months of hard and challenging work, Ace is now a fully independent patient. Able to eat, drink, walk, run and go up and down stairs. He runs freely and happy in his several acres playground with his human family members.
---
Dear Dr. Sanchez and Staff,
Thank you, Dr. Sanchez and staff at Animal Health and Rehab, for making Ginger walk again!
After almost a year, of undergoing emergency surgery due to a rupture disc, Ginger, my basset hound, was still unable to walk. I was told by the previous veterinarian, that I needed to come to terms with the reality that Ginger would never walk again; and that I should look into getting a wheelchair K-9 cart for her.
Upon receiving this devastating news, I asked the surgeon who performed Ginger's procedure, and was referred to Dr. Sanchez at Animal Health and Rehab Clinic. I called and made an appointment for an evaluation, and from our first visit, I was very impressed with Dr. Sanchez's thorough examination and assessment of Ginger and assure me that "Ginger will walk again".
Following our first appointment, Dr. Sanchez provided us with a detailed therapy program, tailored for Ginger and said that it would gradually help increase her muscle strength, extend her range of motion, boost her endurance, and improve her fitness.
After a couple of weeks on the program, we noticed an immediate improvement as she was able to walk again! I'm very happy to say that the care Ginger has received by Dr. Sanchez and her staff at Animal Health and Rehab has made a remarkable difference and I would highly recommend anyone who has a pet to seek care with Dr. Sanchez and staff at Animal Health and Rehab. I know that without them, Ginger would never have walked again. For that my family and I are deeply grateful.

Sincerely yours,
Maylynn Acosta.
---
A brief explanation of the situation I found myself in several months back. My dog Trippie, a shepherd/chow mix began limping from his front right leg at an early age. At first, I thought it had something to do with the way he slept, and although concerned I made a mental note to myself and kept an eye on him. As time passed, I noticed that the limping was beginning to be more frequent. Having complete trust and faith in my veterinarian, Dr. Marta Sanchez, I scheduled an appointment to have him examined. This is how Trippie was diagnosed with hip dysplasia, at only 5 years old. The diagnoses was devastating, as I was also going through a difficult time with my older dog's arthritis, and could not imagine the same scenario with Trippie. Dr. Sanchez and I discussed the options available to him, and the fact that there had been some great success with stem cell treatments in California . I did some research on my own, as every good pet parent should, and decided that I wanted to give Trippie every opportunity to live a long, healthy, pain free life. I made the decision to proceed with the stem cell treatment, and am so glad that I did. I highly recommend the procedure for any dog that qualifies for it, as Trippie is no longer limping, and is pain free. He is no longer on any medications, which was probably one of my greatest concerns in the beginning, because of the side effects of arthritis medications. One of the interesting parts of this procedure is that once the stem cells have been harvested and sent to the lab, they keep them "on file" so if he should need any treatment in the future, they already have them. He will not need to go through the "surgery" part of harvesting the cells again. I truly feel that the stem cell treatment has given him a new lease on life.
Judith Harris
---
Animal Health and Rehab is a wonderful group of caring Doctors and Technicians. Dr. Martha Sanchez, one of the only Certified Canine Rehabilitators and Veterinary Acupuncturists in the Nation and her staff performed a miracle for my Bear many years ago. In 2004 Bear, a lab and chow mix, went into shock (coma) resulting in paralysis and uncontrollable bowel movements after scheduled neuter surgery. His former veterinarian was unable to explain the reason and opted to ask for my consent to put him to sleep. Bear's eyes and my heart told me there had to be hope some place else. I scheduled an appointment with Dr. Marta Sanchez who after numerous questions urged me to bring him in for an evaluation. She admitted him into her hospital for 7 days where he underwent intense therapy. Their state of the art equipment includes, The Hydrotherapy (underwater treadmill), Electro-Stimulation, Therapeutic Exercise, and other rehabilitating techniques. I believe that all this had much to do with his recovery, but most of all the love and dedication expressed to Bear every step of the way is the reason Bear is a healthy 9 year old today. Dr. Sanchez's dedication included splints, (she created herself) rubber bands, etc. to speed the recovery process . I will never forget the phone call from Derdwin (staff) informing me that Bear was swimming and moving his legs. The journey was a long one, but worth every tear shed and step of the way. My family teamed up and followed up with home exercises under Dr. Sanchez's guidance and recommendation. I believe that Bear's recovery to this day has been nothing short of miraculous. Dr. Sanchez acknowledged that Bear's will to live and walk again was a plus in his recovery. Bear has been his usual self since then and I believe this doggie believes Dr. Sanchez is his hero. Bear's story aired on Channel 7 news on July 5, 2005….all I can say is that every pet owner should have a vet like Dr. Sanchez. Thank you Dr. Sanchez and everyone who took care of Bear, we appreciate everything you did.
Sincerely,
Beatriz Michelena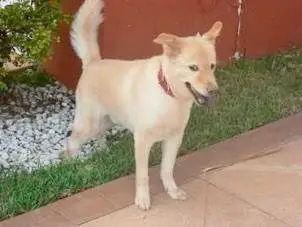 ---
Out of the blue, Lucy could not use her hind legs one day. Within a few hours she couldn't walk at all. The neurologist diagnosed her with a spinal cord amboli and recommended rehabilitation. We brought her into Animal Health & Rehab Center. After six weeks of therapy, to my surprise and relief, she was able to use her hind legs and walk again. That was about eighteen months ago. Now she walks, she runs and she jumps on the furniture.
Rene Garcia
---
Our Boxer, Raisin, had TPLO knee surgery. The recuperation did not go well and minor soft tissue corrective surgery was performed. As a result of these surgeries, Raisin lost 50% of the muscle mass on her leg and the muscles, tendons and ligaments contracted to the point she could not lower her leg. We never thought this gifted athlete would ever walk normally, much less run again.
We then heard of Dr. Marta Sanchez and her Animal Health & Rehab Center in South Miami. We could tell from the initial visit when Raisin's evaluation and assessment was performed, that if she could ever walk again normally, Dr. Sanchez and her dedicated staff would help us to accomplish this goal. The therapy and rehabilitation program was soundly grounded and little by little, Raisin was able to extend her leg so once again it become weight bearing. As Raisin's leg strengthened, which was carefully measured, her therapy & rehab became more vigorous.
Upon completion of her therapy & rehab program, Raisin's muscle mass returned fully, she had full weight bearing on her leg and walked normally.
Gradually, Raisin was allowed to run for short spans of time with no evidence of a limp. We are thrilled to report that Raisin has fully returned to being the gifted athlete she was meant to be. None of this would have been remotely possible without Dr. Sanchez.
Dr. Sanchez and her staff delivered.
If miracles can be performed, Dr. Sanchez and her therapy & rehab program will achieve the desired results.
Myron Shapiro
Palmetto Bay, Florida
---
Doc's Road to Success!!
Ed and Deidre Dickson
We want to thank Dr. Sanchez and her fantastic staff at Animal Health and Rehab Center for their professionalism and genuine concern for Doc, our 4 year old Wire Haired Pointing Griffon.
One day we noticed that Doc was having problems walking and within just a few days he was completely lame. Our personal vet referred us to Dr. Wong, Southeast Veterinary Neurology, who took great care and thoroughly evaluated Doc - diagnosis: Polyradiculoneuritis (coonhound paralysis). This condition is similar to guillain-barre syndrome in humans.
Dr. Wong referred us to Dr. Sanchez whose staff immediately set up an appointment for Doc to be evaluated for rehab. Needless to say, we were very sad and upset that Doc, who had just a few days earlier been a healthy and energetic dog was now having to be carried into the clinic – all 60 pounds!
However, Dr. Sanchez was not sad or upset – she and her staff were optimistic and hopeful that Doc would recover and be walking again! She "held our hand" and walked us through every step – including sending us videos of Doc during water therapy and acupuncture. Dr. Sanchez and her staff kept in touch with us even during the weekends (when Doc came home) by calling us and making sure things were going okay. We were always just a phone call away from getting our questions answered; as a matter of fact, we talked to Dr. Sanchez personally almost on a daily basis.
Dr. Sanchez and her staff worked diligently with Doc – giving him treats to entice him into moving his crippled legs. They used a Quad wheel chair to help him move around and even let us bring it to our home to work with him over the weekend.
We tried to remain hopeful that Doc would walk; however, we became discouraged as his own personality changed –he seemed depressed and not eager to get better himself. A decision had to be made – do we continue this slow road to recovery or do we make the difficult decision to put him down. We talked with Dr. Wong and Dr. Sanchez because their professional opinions were very important to us. They truly listened and understood our struggle between life and death – and they would have supported us either way. But they were looking at it from a different point of view – a medical view. Scenario: a previously healthy 4-year old dog had gone lame 3-4 weeks prior – he had no spinal cord problems, no brain problems and no traumatic injuries. They were excited - they knew he was going to walk again….and guess what? One month to the day Doc went lame we got that phone call (and a video to follow) that Doc had actually taken a few steps!! Dr. Sanchez was truly happy and excited for Doc, for us, and for her staff!! Everyone wins!!
We continue to work with Dr. Sanchez and her staff even as Doc walks around the house. Sure he still has a little limp but he is starting to run and he's getting to be his spoiled self again!! We plan to take Doc back for some out- patient rehab knowing that he will recover and be in good hands.
We just know that Dr. Sanchez and her staff are the most caring and genuine professionals we have ever had the pleasure to work with….. We sincerely thank you!! Ed, Deidre, and Doc